The CMAR Office with be closed from Tuesday, September 28th through Monday, October 11th. Reciprocal listings and membership applications received after Noon on Monday, September 27th will not be processed until on or after October 12th.
The Coastal Mendocino Association of REALTORS® (CMAR) Board of Director and Committee Meetings will remain remote throughout the remainder of the term year. The CMAR office is open with face masks required for entry. CMAR is working towards holding in-person General Membership Meetings, but will continue to hold these meetings virtually as necessary for speaker and venue availability. The CMAR MLS weekly tours have resumed. Due to the surge in Covid cases locally, the CMAR Installation on November 5th will now be held virtually.

The Coastal Mendocino Association of REALTORS® was formed in 1978 as a 501(c)(6) tax-exempt organization. The same year, CMAR received charters from both the California Association of REALTORS® and the National Association of REALTORS®.
With membership of less than 100 REALTOR® members, CMAR is considered a petite association.  The jurisdiction for the association runs from the Humboldt County line in the north to the Sonoma County line in the south. The jurisdiction is bordered by the Pacific Ocean in the west, with varying distances in the east. The CMAR Association jurisdiction is slightly different than the service area for the CMAR MLS.
The service area for the CMAR MLS includes the following areas: Albion (95410), Boonville (95415), Branscomb (95417), Caspar (95420), Comptche (95427), Elk (95432), Fort Bragg (95437), Gualala (95445), Irish Beach (95459), Little River (95456), Manchester (95459), Mendocino (95460), Navarro (95463), Philo (95466), Point Arena (95468) and Westport (95488).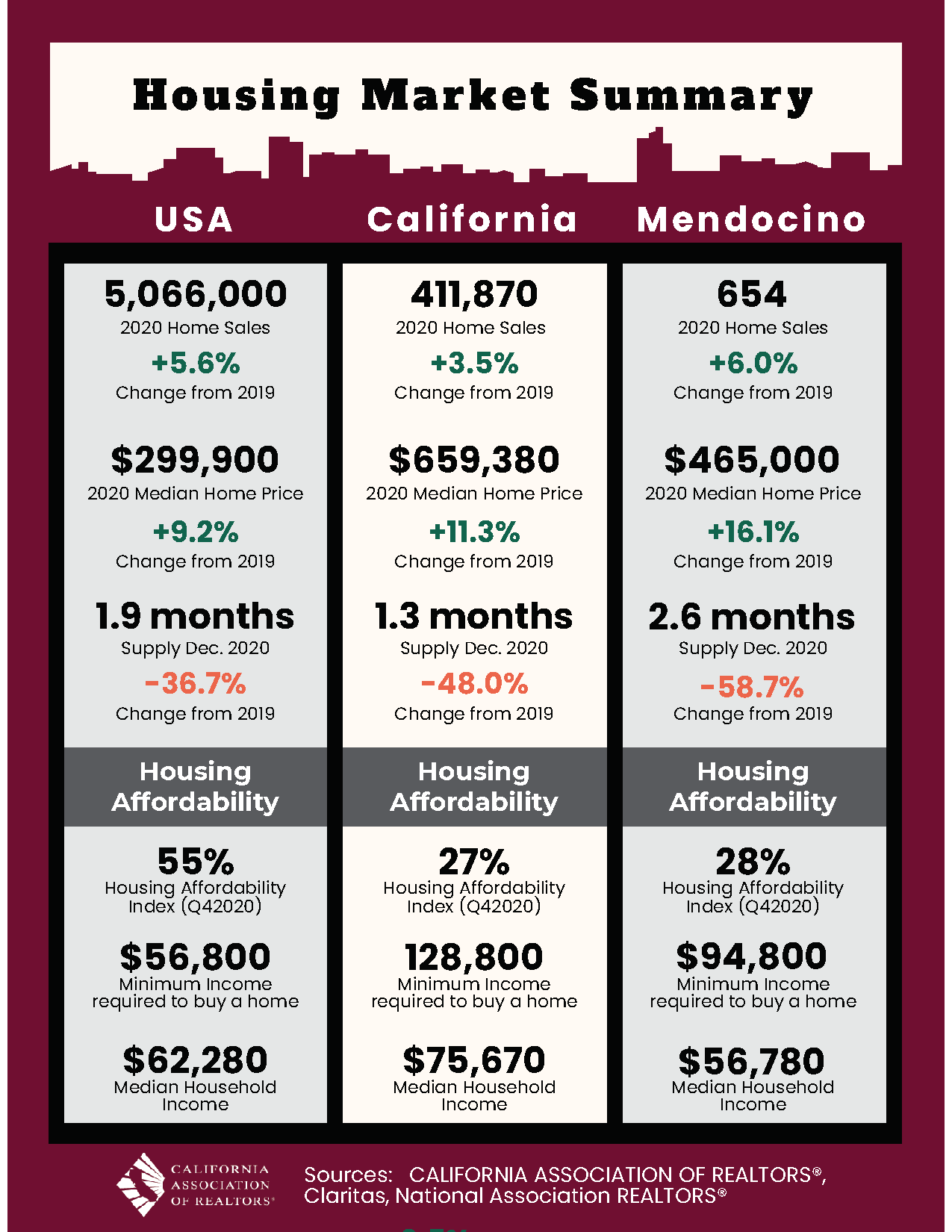 Median Single Family Home Price: July 2021
National: $359,900
California: $811,170
Mendocino County: $650,000
Coastal Mendocino: $689,500
Sources: National Association of REALTORS®, California Association of REALTORS®, and CMAR MLS
Mortgage Rates Week Ending 09/16/2021
30 year fixed: 2.86% – fees/points: 0.7
15 year fixed: 2.12% – fees/points: 0.6
Source: Freddie Mac
FAIR HOUSING DISCRIMINATION HOTLINE SCAM
HUD's Housing Discrimination Hotline has been getting calls from the public about a group using a scam that shows them calling from 1-800-669-9777 (the Discrimination Hotline). HUD has received over 30 calls from the public at this time. One scam tells the person to send $300 to them and that HUD will send them back $9000.  If you receive a phone call related to this from the public, or if you receive such a message on the answering machine, you have been contacted fraudulently.
Please report this to the FCC.
Source: California Association of REALTORS®
Real Estate Related Links
Contact Us
684 South Main Street
Fort Bragg, CA 95437
Phone: 707-964-7008
Fax: 707-964-7030
Email: cmar@mcn.org